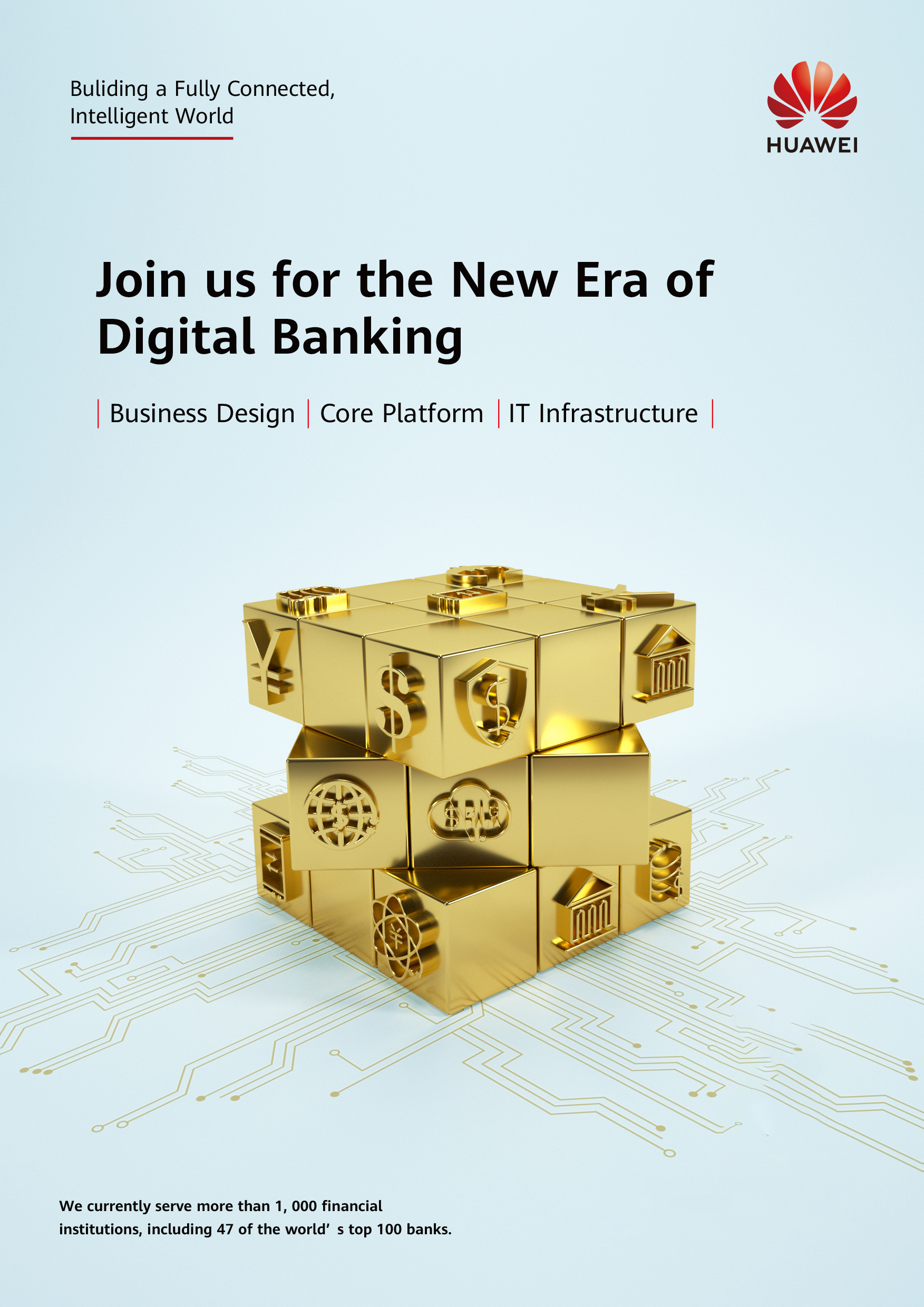 Financial services firms have had to radically change the way how they work due to the COVID-19 pandemic.

The series of global lockdowns have forced most global organisations to disperse staff into remote working and embrace new forms of digital communication and data sharing, both internally and with customers.

As a leading information and communications technology provider, Huawei has been a crucial component of its partners' strategies to deal with the impact of the Coronavirus crisis – serving 1,600 financial services clients across more than 60 countries.

A recent report from the Bank of International Settlements put banks' performance on equity and debt markets since the outbreak began on a par with that experienced after the collapse of Lehman Brothers in 2008, while an April survey by Statista revealed that 92 per cent of financial services chief financial officers in the US expect their company's revenue and/or profits to decrease as a result of the virus.

In order to survive the crisis, businesses have been increasingly looking online and embracing new technology.

Huawei's global support capability allowed it to respond to urgent requests for digital support and keeping their data centre services running under unprecedented demand.
More than 500 remote Proof of Concepts have already been carried out, enabling clients to still test configurations, loads and features without leaving their homes.

Since Chinese banks were some of the first to experience the disruption, they built up knowledge about how to deal with the move from in-branch to online service. Huawei has kept in close contact with these companies to share the best practices and exchange insights on what the 'new normal' will look like and how to prepare for it.

Some examples of how clients have responded include China Merchants Bank being able to issue large amounts corporate loans through contactless process within short time, and China Life holding remote training for more than one million agents.

Even when government guidance does allow for full reopening of branches, it may be the case that customer expectation has shifted significantly to favour virtual communication and contactless transactions.

Therefore, it is important that organisations enable extend mobile portals across all lines of business, building necessary security protections and good user experience. Those not offering customers such flexibility are likely to lose out to those that do – especially given pervading paranoia about face-to-face interactions and having to wait in lines.

Huawei is supporting clients looking to build innovative solutions with artificial intelligence, cloud computing, the Internet of Things, 5G and WiFi-6 to help drive efficiency, cost effectiveness, security and customer satisfaction.

One example of this comes from Greece, where Piraeus Bank has outlined its Agenda 2023, which aims to build on the creation of e-branches in recent years with a large-scale migration to digital systems and processes by 2023.

To meet its growing demand for new IT services, the bank worked with Huawei to replace legacy storage systems with all-flash storage, moving production services and data to the system, such as databases, virtual and application servers. Powered by advanced architecture and intelligent algorithms, the OceanStor Dorado system has improved service performance, reduced latency and ensured high reliability.

Similarly, the National Bank of Greece came to Huawei to help in establishing customer-centric digital banking by reinventing its network infrastructure.

It had to change both the network architecture and devices for more than 200 branches and 32 buildings throughout Greece. Many of the legacy switches were more than 10 years-old and had been out of support for a long time.

"We were looking for a secure and reliable solution which could provide us with high speed, great quality with as little disruption as possible during installation and as light maintenance as possible," explained the bank's deputy director for group operations and infrastructure Antonis Chatziparaskevas. "We wanted to invest in the equipment that you can simply buy, install and forget."

Huawei's solution was to replace the aged devices from previous network vendors with the latest intelligent routing switches. It designated a test team to ensure the interoperability of Huawei products with the legacy authentication systems and existing telephony.

Migration increased the nominal network bandwidth from 100 megabits to 10 gigabits - and is ready for an upgrade to 100 gigabits - backing the bank's data demands and future growth plans.

It increasingly appears that the future of finance is mobile, with acquisition based around app functionality and operational resilience. To support success in this area, businesses will require new IT architectures and key capabilities in AI, cloud and 5G.

As a leader in these technologies, Huawei has unique advantages that support the cloud transformation of financial institutions, building new connecting capabilities and helping financial institutions improve their agility and innovation.

Click here to find out more.