Huawei has unveiled two new products designed to accelerate digital transformation in the financial sector.

Beyond ICT infrastructure construction, Huawei also aims to assist various industries in maximising their infrastructural capabilities, improving enterprise process efficiency, and continuously innovating services towards digitalisation.

Huawei Software, responsible for developing these new products, focuses on building innovative digital services and operating systems, cooperating with carriers and ecosystem partners to build digital infrastructure. They collaborate with carriers and ecosystem partners to construct digital infrastructure and support the digitalisation efforts of multiple industries.

The overall mission of digitalisation is to enable companies to better engage with consumers and provide enhanced value to stay ahead of the competition and ignite the passion for growth and innovation in the next generation.




With years of experience in fundamental technical research and development, Huawei has built a cutting-edge AI-based Contact Centre (AICC) product that combines its overall AI capabilities and serves to improve customer service efficiency and user experience.

Additionally, Mobile Money 2.0 is Huawei's new generation mobile finance solution which includes mobile wallet, mobile payment, and microfinance capabilities. With the development of AICC and Mobile Money, Huawei Software aims to benefit customers' IT infrastructure by driving digital efficiencies.

Huawei Software has served over three billion subscribers in more than 170 countries and has been investing 15 to 20 per cent of the revenue into R&D annually to accelerate digitalisation, build agile operations and develop an open financial ecosystem to achieve business success together with customers and partners.

Maurice Ma, president of Huawei software business department, announced these new products at the Huawei Intelligent Finance Summit (HiFS) in Shanghai, China in early June. The overall theme of this year's HiFS was "Navigate Change, Shaping Smarter Finance TOGETHER". The conference brought together industry leaders to share their expert insights on digital trends that will shape the future of mobile finance.

During his speech titled "Digital Engagement Trends and AI Applications in the Financial Industry", Ma discussed the latest digital engagement trends within the financial industry and how AI enables the next generation of digital experience before introducing AICC and Mobile Money.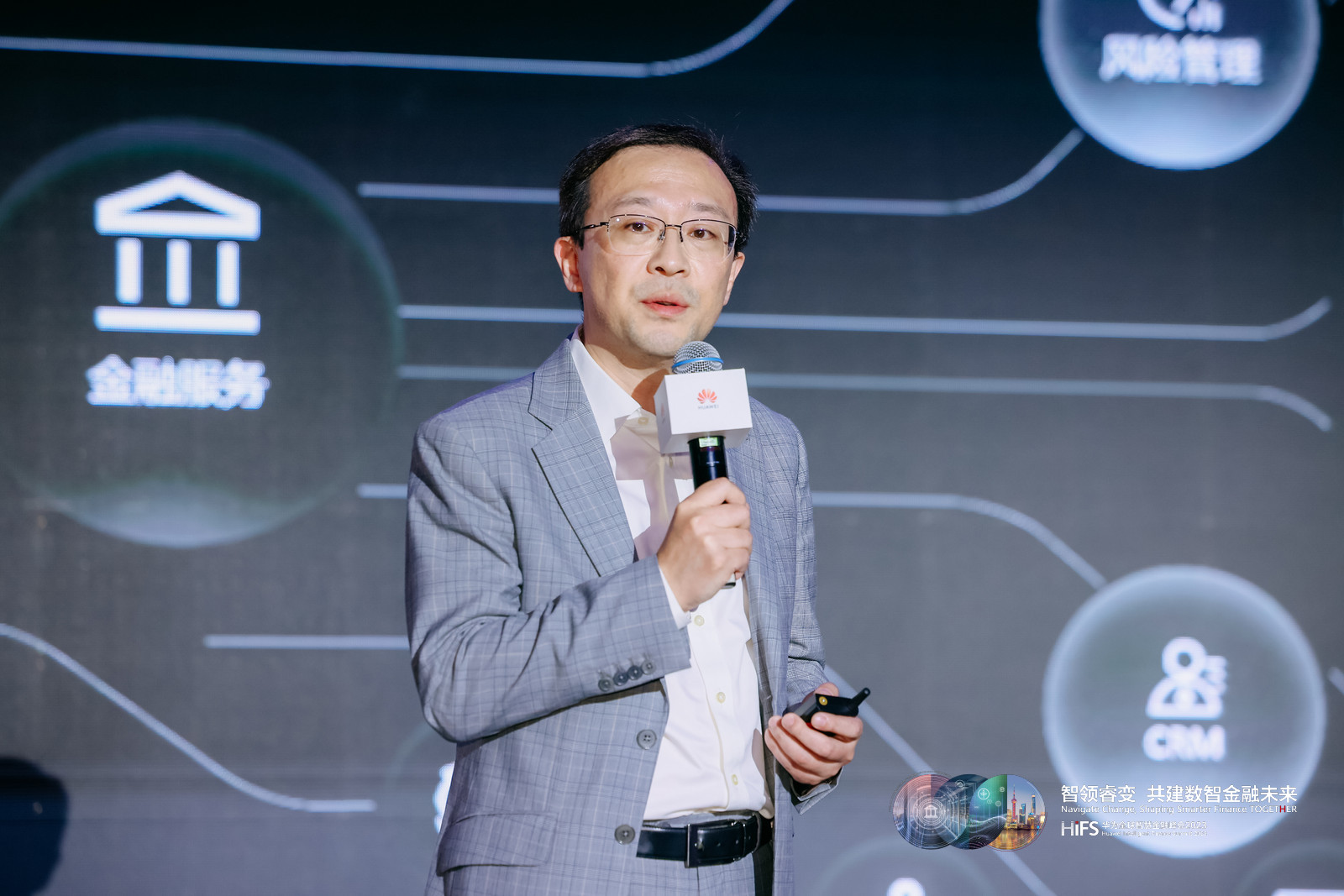 Maurice Ma, President of Huawei Software Business
AICC: The Future of Financial Industry, Embracing AI for Enhanced Customer Experience
The financial industry is undergoing a rapid transformation towards digitalisation, with mobile devices becoming the main touchpoint for users to access financial services. This shift will lead to an increase of requirement for longer service duration, higher frequency, real-time, and better intelligent engagement experiences.
Ma emphasised the importance of improving customer experience as the driving force behind the future evolution of the financial industry. "By utilising AI-assisted digital agents, we can build smart assistants and provide large-screen services to bank branches, and therefore offer new experiences to customers," he said. "In addition, we can use AI voice robots to conduct e-training for internal employees, to improve employee skills and reduce training costs."
Traditionally, the financial industry primarily relied on structured text data for customer interactions. However, with changing customer behaviour and technological advancements, a significant amount of unstructured audio and video data has been generated via customer interactions. AI-based technologies will be crucial in identifying, processing, and utilising both structured and unstructured interaction data. Future AI interaction technologies, including AIGC, large language models, voice robots, and digital humans, will rapidly be developed to enable personalised, accurate, and real-time services for users.
Huawei AICC continuously improves customer service experience and sales by integrating multiple channels such as VOLTE video and various social media to achieve an overall cost reduction of 30 per cent per call through intelligent implementation in every scenario. Huawei AICC supports multiple deployment modes with private, public and hybrid cloud to meet our partners' personalised requirements. Since Huawei AICC is developed based on low-code enabled platform, the product's various scenario-based interfaces can also facilitate secondary development for partners and can also be utilised across a wide range of scenarios, including telemarketing, E-KYC, and e-training.
In summary, there are three key takeaways for Huawei AICC. Firstly, leveraging Huawei's extensive experience in the telecom industry, AICC combines fundamental technical research and development with cloud-native architecture to deliver carrier-class large capacity, high reliability, and resilience. Secondly, Huawei has made continuous investments in AI technology, with significant research achievements in the field of artificial intelligence with 2012 Lab. Huawei AICC is an enterprise-level software product that significantly improves customer service efficiency and user experience. Additionally, based on accumulated multimedia technology in the telecommunications field, Huawei AICC can upgrade traditional voice customer service centre, providing a better user experience and efficiently closing the business process loop.
Huawei AICC Launch Event in Financial Industry
Unlocking the Potential of Mobile Money: Empowering Modern Digital Users
In order to facilitate the establishment of a low-cost, highly reliable, and digitally connected platform for banks, Huawei offers a comprehensive Mobile Money solution. This solution includes mobile wallet, digital payment, and microfinance, with the following key highlights:
• Cloud Native Distributed Transaction Core System
Huawei Mobile Money is built on an advanced cloud-native architecture, providing higher reliability and scalability. This architecture supports multiple networks with multiple active nodes deployment, ensuring 99.999% availability, unlimited elastic capacity expansion and zero service interruption. Mobile Money business can achieve sustainability, flexibility in accessing financial service anytime, and cost-saving per transaction compared to traditional banks.
• Ecosystem-Oriented Open Payment Platform
Huawei Mobile Money offers comprehensive ecosystem connectivity capabilities, including user interaction, Open APIs, SDKs, and data assets. All openness and connectivity are governed by Huawei trusted product governance framework, which exceeds industry standards. The solution also supports over 18 payment scenarios, with hourly merchant access to more than 22 industry templates and one-week operation activity rollout. By quickly connecting ecosystem partners through the open payment platform, Huawei Mobile Money enables Mobile Money service providers to embrace the digital ecosystem and develop useful cases to customers while allowing them to access their financial services anywhere.
• AI-Drive Financial Service Platform
Huawei Mobile Money provides a powerful AI engine that enables Mobile Money service providers to monetise their business and increase the accuracy of user prediction to 90% for 90 days overdue scenario. It also facilitates agile risk control with day-level iteration.
During his speech, Maurice Ma highlighted that new technologies such as big data, machine learning, AI, blockchain will drive rapid innovation in mobile financial services. With the widespread adoption of those innovative technologies, the Mobile Financial Services sector is undergoing a dramatic transformation.
Huawei's Mobile Money solution currently serves 410 million registered users and has 170 million monthly active users. As a member of the World Economic Forum Edison Alliance, Huawei aims to benefit 500 million people through financial inclusion by 2025, to open the door to the digital economy and unlock $60 billion in new market share.
Maurice Ma emphasised the need for a better ecosystem that requires multi-party collaboration for user acquisition focused on digital life, continuous service innovation, as well as integration and operation of multi-technology solution. Huawei believes that uniting the entire ecosystem and fostering innovation together is the only way to achieve success in a diverse and uncertain marketplace.
Over the past few years, KBZ bank has made significant strides in the digital payment landscape with the launch of KBZPay, a next generation digital payment and current account platform. With its traditional banking background, KBZ bank has successfully embarked on a mobile-centric transformation, positioning itself as the No.1 SuperAPP brand in Myanmar. KBZPay has garnered immense popularity, boasting over 12 million users, which accounts for approximately one-third of the total adult population in Myanmar. The platform covers a wide range of daily life scenarios, making it an integral part of the users' everyday routines. Notably, KBZPay's transaction volume has already surpassed traditional banking transactions by a staggering 40 times, demonstrating its rapid adoption and acceptance among the population.
Furthermore, the transactions conducted on the KBZPay platform contribute significantly to the country's economy, with transaction volumes equivalent to 62 per cent of Myanmar's GDP. This remarkable achievement solidifies KBZPay's position as the market leader, maintaining its dominance for four consecutive years.
Huawei Intelligent Finance Summit 2023 was held on June 7-8 in Shanghai, China. Under the theme "Navigate Change, Shaping Smart Finance TOGETHER", the two-day summit witnessed the announcement of Huawei's key strategies and details of strategic MOUs recently signed in the finance sector, along with its newly launched solutions. Industry leaders also had the chance to gather and share their insights on digital trends for the future of finance and successful use cases. For more details, please visit here.
---