Barclaycard unveils plan for contactless jewellery
Barclaycard has agreed two new partnerships that will see its bPay payment technology embedded into jewellery and watch brands available on the High Street. The first deal is with DCK Group with their range of 'Tutch' jewellery, while the second is with Tappy Technologies, which embeds payments functionality into watches. Full details on the products, retail stockists and price ranges are set to be announced over the coming months.
Financial phishing attacks 'on the up'
The amount of financial phishing attacks increased by 13 per cent in 2016 to account for 47.5 per cent of all phishing attacks registered by Kaspersky Lab last year. The firm's anti-phishing technologies detected almost 155 million user attempts to visit different kinds of phishing pages in 2016. Of those, almost half of detections were attempts to visit a financial phishing page – where the aim was to obtain valuable information from users, such as account numbers, social security numbers and login information for online banking.
Mizuho completes blockchain sharing trial
Japanese bank Mizuho and tech provider Cognizant have built a new application after completing trials using blockchain technology in cross-border document sharing and a custom digital currency. The application was developed to help enhance collaboration through facilitating data sharing, as well as the issue and transfer of digital currency between Mizuho subsidiaries. The trial verified that blockchain technology can be leveraged to create an effective platform for information sharing among multiple group companies.
ClearScore launches credit score chatbot
Credit checking firm ClearScore has launched what it claims is the world's first chatbot designed to build consumers' credit confidence. The bot-based service, called Coaching, is free to use and is split into three programmes. Depending on whether someone has a thin credit file, has faced financial challenges in the past or just wants to fine tune their finances, ClearScore automatically recommends the right Coaching programme for them.
Compliance
FStech talks to Tony Reid of HDS about the compliance issues facing financial institutions and FinTech firms
Data & regulation
MarkLogic's Chris Atkinson discusses how data affects your ability to comply with regulation with FStech.
Starling Bank unveils plan for first hackathon
Starling Bank has revealed plans to host its first hackathon, making it the first UK licenced bank to launch a public API in keeping with the ambitions of PSD2 and the Open Banking initiative. The API enables third-parties to access customer data and build on top of the Starling platform to create products and services such as chatbots, spending analytics or connections with the Internet of Things.
UK consumers 'concerned about data security'
More than half of UK consumers do not trust businesses, including financial institutions, to protect their confidential data, a new report has found. ACI Worldwide's global survey of more than 6,000 consumers found that only three countries had more than 50 per cent of respondents indicate that they trust institutions to protect their financial and payments data.
NatWest & RBS introduce in-branch tech support
NatWest and Royal Bank of Scotland are investing in specialist 'TechXperts', who will help branch customers use online and mobile banking and raise awareness of other convenient ways to bank. By the end of April 2017, NatWest (which has 1,000 branches) and RBS (with 200 branches) aim to have a TechXpert in every outlet in England, Scotland and Wales.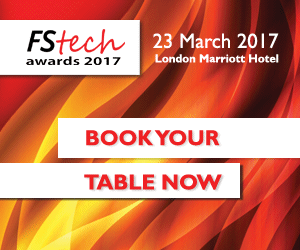 Expert Views
New Products/Solutions Showcase...
Most read stories...
World Markets
(15 minute+ time delay)
FTSE 100
7243.70
-27.67
Nikkei 225
19283.54
-87.92
S&P 500
2367.34
+3.53
Crude Oil
N/A
+0.00