Book your table
Awards Ceremony

Date: 23 March 2017
Venue: London Marriott Hotel Grosvenor Square, London, W1K 6JP, United Kingdom (Venue map)
Dress Code: Black Tie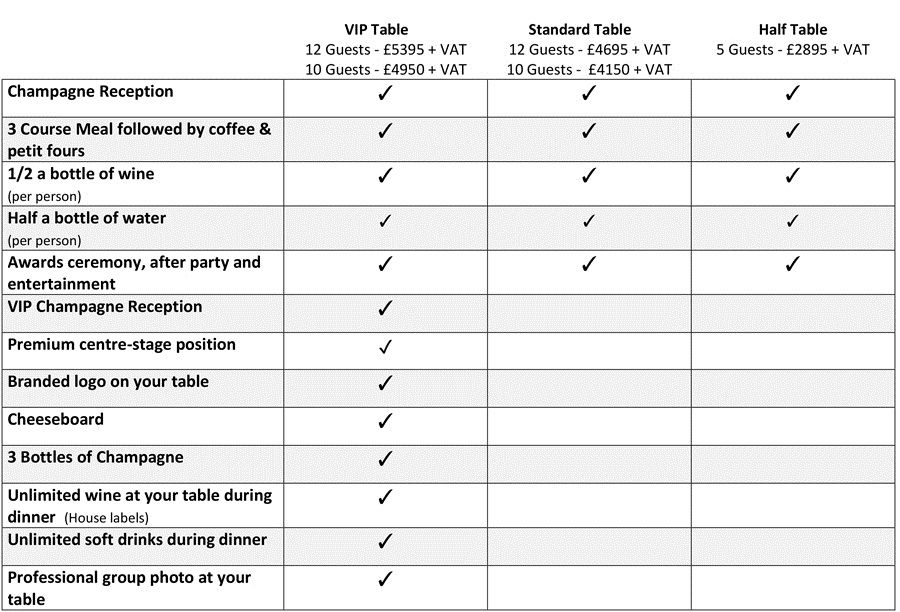 Timings
7:00pm: Champagne reception in the Ballroom Foyer
The night will begin with a champagne reception, providing the perfect environment to meet and greet your guests and network.
7:45pm: Welcome speech
By the editor of FStech, Michelle Stevens.
8:00pm: Sumptuous gala dinner
A fantastic three course dinner will be presented to you by the culinary experts of the prestigious London Marriott Hotel, Grosvenor Square.
9:30pm: Awards presentation by the host - Marcus Brigstocke
Marcus Brigstocke is a major British comedy talent as writer, actor, presenter and performer. It's said he is heard on Radio 4 more frequently than the shipping forecast. On television Marcus launched The Late Edition, the late night BBC4 answer to The Daily Show with Jon Stewart. He has hosted and appeared as a panellist on Have I Got News For You, and played King Stupid in Stupid on CBBC. He was the host of I've Never Seen Star Wars on both radio and TV, a regular on panel shows from QI to Just A Minute, and has even cropped up on Question Time, Newsnight, and This Week. On Radio 4 he is the angry youngish man on The Now Show, with Punt and Dennis, and his own show The Brig Society. A fixture at the Edinbugh Fringe, usually with two shows, Marcus' live performances sell out across the country.
11:00pm: Afterparty and Entertainment
You will have the chance to show off your skills and win prizes at the fun casino (prizes will be awarded to the highest scores on the night!). For those wanting to show off your best dance moves, our DJ will also be playing the best hits in the stylish ballroom, with a quieter area also available for those who would like to catch up with colleagues and friends and discuss the successes of the night. A cash bar will be available for those who wish to party into the night.
1:00am: Carriages
---
The 2017 FStech Awards will be held on 23 March 2017 at the prestigious 5 star London Marriott Hotel, Grosvenor Square. The hotel expertly combines traditional elegance with modern comfort. Situated just steps from Hyde Park and Oxford Street, the hotel's historic past as a grand townhouse now welcomes guests with five-star luxuries. The FStech Awards provide a great way to recognise and reward staff for their hard work, catch up with friends in the industry, and to develop client relationships. Consisting of a champagne reception, sumptuous dinner, awards ceremony hosted by a celebrity compere and after show party, the FStech Awards 2017 will be a night to remember. Early booking is advised as tables are allocated closest to the stage on a first come first served basis.