Book your table
Awards Ceremony

Date: 22 March 2018
Venue: London Marriott Hotel Grosvenor Square, London, W1K 6JP, United Kingdom (Venue map)
Dress Code: Black Tie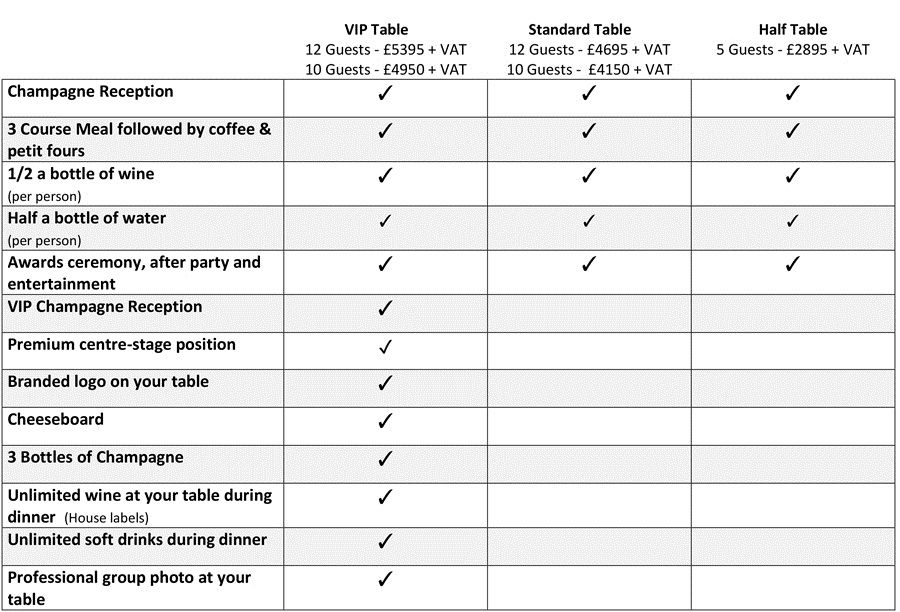 Timings
7:00pm: Champagne reception in the Ballroom Foyer
The night will begin with a champagne reception, providing the perfect environment to meet and greet your guests and network.
7:45pm: Welcome speech
8:00pm: Gala dinner
A fantastic three course dinner will be presented to you by the culinary experts of the prestigious London Marriott Hotel, Grosvenor Square.
9:30pm: Awards presentation by the host: welcome Lucy Porter
The 2018 FStech Awards will be hosted by comedian Lucy Porter.
11:00pm: Afterparty and Entertainment
You will have the chance to show off your skills and win prizes at the fun casino (prizes will be awarded to the highest scores on the night!). For those wanting to show off your best dance moves, our DJ will also be playing the best hits in the stylish ballroom, with a quieter area also available for those who would like to catch up with colleagues and friends and discuss the successes of the night. A cash bar will be available for those who wish to party into the night.
1:00am: Carriages
---
The 2018 FStech Awards will be held on 22 March 2018 at the prestigious 5 star London Marriott Hotel, Grosvenor Square. The hotel expertly combines traditional elegance with modern comfort. Situated just steps from Hyde Park and Oxford Street, the hotel's historic past as a grand townhouse now welcomes guests with five-star luxuries. The FStech Awards provide a great way to recognise and reward staff for their hard work, catch up with friends in the industry, and to develop client relationships. Consisting of a champagne reception, dinner, awards ceremony hosted by a celebrity compere and after show party, the FStech Awards 2018 will be a night to remember. Early booking is advised as tables are allocated closest to the stage on a first come first served basis.