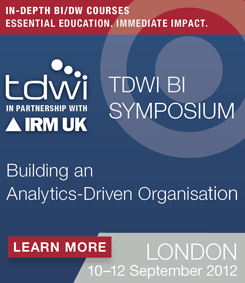 Are We There Yet? Zero-Wait BI for Everyone
This CITO Research white paper, examines the business benefits of enabling users to perform their own data analysis, without making continual demands on IT.
Mobility Is Exploding: Are You Ready?
Mobile business intelligence replaces static information with real-time information, empowering data-driven decisions on the spot. This paper describes use cases to for bringing not just BI, but business discovery, to the front lines of your business.
Single Customer View in Financial Service
This white paper outlines what a single customer view is and what the UK requirements are, why this represents best practice and how it can be advantageous to the business, and the techniques and technologies that will be most effective in establishing and maintaining such an approach.
TATA Consultancy Services - Cloud Computing
Cloud computing is the convergence of virtualization, distributed applications, grid, maturity of enterprise software applications and enterprise IT management.
Genesys. Sustained Management: Changing the Game with Genesys iWD
The article explains how Genesys intelligent Workload Distribution (iWD) has the power to change the game in the contact center space based on new visibility into tracking, reporting, and performance management
Research Study: The Revolution in Self-Service Channels in the Financial Services Sector
This report analyses the growth of consumer self-service channels in key areas of the Financial Services Market
Genesys. Staffing and Workload Management:
Fleshes out the importance of properly managing contact center and back office work, especially through the alignment of employee skill sets.
Genesys. The Importance of Proper Hiring, Training, Career Path Development, Skilling, and Routing
Which explains why it is imperative to implement these factors correctly in the contact center and back office to ensure competent customer interactions.