Nets unveils 'lock screen' payments app function
Nordic payments provider Nets has updated its Dankort mobile app with a new functionality which allows iPhone users to make payments from their lock-screen. The new feature is being been piloted by Dansk Supermarket Group's Netto, Føtex, Bilka and Salling supermarkets, making mobile contactless payments for larger amounts more convenient. Customers can use the app to validate purchases over DKK 200 (£24) simply by using Touch ID.
Santander launches UK mortgage video service
Santander is launching a new mortgage video service in 63 UK branches, following a successful trial last year. The new service enables customers to apply for a mortgage using a video link from the branch, which connects them remotely to a UK based mortgage adviser. Customers can go online, call, or visit a branch to go through the initial stages of their mortgage application, providing documentation where required. Customers then have the opportunity to receive in branch mortgage advice by video link.
ANZ appoints new digital transformation head
Australian bank ANZ has appointed a former retail e-commerce executive to lead the organisation's digital transformation strategy. Jennifer Scott – who has previously worked as eBay Europe's chief operating officer of finance, as a strategist at Virgin Media and vice-president of finance at Expedia – will act as general manager of digital transformation and performance at ANZ, an entirely new position.
Tesco Bank online services suffer 'technical fault'
A number of Tesco Bank customers were unable to access their online banking accounts on Wednesday due to a 'technical issue'. The incident affected savings, credit card and current account customers only. While customers were unable to access their online banking, they were still able to use their cards as normal for example to make purchases or to withdraw cash from ATM's.
Compliance
FStech talks to Tony Reid of HDS about the compliance issues facing financial institutions and FinTech firms
Data & regulation
MarkLogic's Chris Atkinson discusses how data affects your ability to comply with regulation with FStech
Atom secures £30m capital facility from BBBIL
UK digital challenger Atom Bank has secured a £30 million Tier 2 capital facility from the investment arm of the British Business Bank as it looks to boost its small business lending operations. The Tier 2 eligible facility will help support the growth of the bank and its desire to lend to UK corporates and smaller businesses. Atom said its choice to launch an SME proposition as part of its first product suite signalled its intention to be a significant supporter of the UK SME market.
Online card spending 'set to double by 2021'
Online card spending is expected to double by 2021, reaching $6 trillion globally, new RBR Research has found. The 'Global Payment Cards Data and Forecasts to 2021' has revealed that the value of e-commerce card payments made worldwide grew by 26 per cent during 2015 to reach $2.7 trillion, and represented 12 per cent of all card expenditure.
TrueLayer raises $3 million in Series A funding
TrueLayer, a UK-based FinTech developer platform that aims to provide easy access to bank APIs, has secured $3 million in series A funding. The funding round was led by Anthemis Group, whose partner, Yann Ranchere, will join TrueLayer's board. Existing investor Connect Ventures, with partner Pietro Bezza, also participated in the round.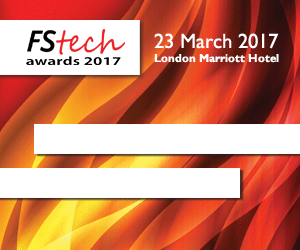 Expert Views
New Products/Solutions Showcase...
Most read stories...
World Markets
(15 minute+ time delay)
FTSE 100
7424.13
-15.16
Nikkei 225
20132.67
+22.16
S&P 500
2439.19
+4.69
Crude Oil
N/A
N/A
CROSS-BORDER PAYMENTS
Kerry Agiasotis of Western Union Business Solutions talks to FStech's Michelle Stevens about the company's WU EDGE payments platform